Elizabeth Pipko, 23, was born and raised in New York City. At ten years old she discovered her love of figure skating and moved with her family to Florida in order to pursue her dream of becoming a competitive athlete.
She competed for years in various competitions across the United States before suffering a devastating injury at 15, after which doctors told her that she would never skate again. During her long recovery, Elizabeth finished and published her first collection of poetry, Sweet Sixteen in 2013.
She also began her modeling career, being featured in DT magazine, Maxim, Esquire and many more.  Elizabeth also starred in the Vizcaya Swimwear "Perfectly Imperfect" campaign, an anti-photoshop campaign promoting positive body image which was covered by major publications such as PEOPLE and Vanity Fair.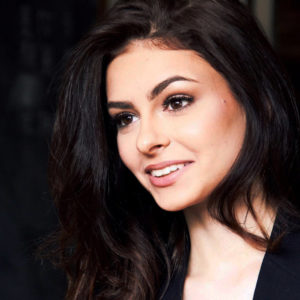 After years of physical therapy, Elizabeth has made her return to the ice, defying all odds and hoping to inspire those around her. Elizabeth is currently a student at the Harvard extension school, majoring in legal studies and double minoring in religion and math.
Her second collection of poetry, About You, is due for release in early summer 2018.