MAXIM IND: Elizabeth Pipko, Model Cantik Mirip Emily Ratajkowski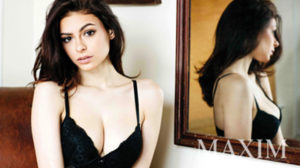 Translated from Indonesian to English:
You are also a Harvard student and take religious and mathematical studies. Why did you choose those two courses?
I'm a student at the Harvard Extension School basically I can take most of its classes online or off campus so I can customize it between modeling schedules. When I first signed up and picked classes, I was a bit late for it and the only class that still has a slot is a class about Islam.
In the end I signed up without knowing that in the end I would fall in love with studying religion and wanted to make religious studies a fundamental subject. I chose math as an additional course because I grew up studying math almost every day with my grandfather. I feel I owe him for that, too, to myself to continue the challenge in college.
Between being the most prestigious model, athlete, and female college student in the world, which one do you like best?
I think everything I do has somehow contributed to shaping me now.
So, you are a model, athlete and also a student. How do you spend time between them?
As I said, I studied at the Harvard Extension School that made it easier for me to pick and take classes among other schedules. Although sometimes I have to sacrifice hours of sleep, but everything works well!
See More of Elizabeth and Read The Full Interview on Maxim Indonesia.