CRAVE: This Harvard Student May Just Be The Next Emily Ratajkowski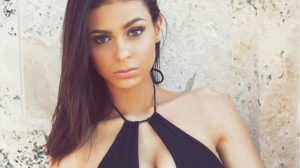 I don't know if any of you have noticed, but we are pretty big fans of Emily Ratajkowski. What's that? It's super obvious? It makes you uncomfortable? She shuld put a restraining order against us? Well anyway, while Emily is going topless on beaches, and going completely nude on Instagram, one other model is turning heads, as many folks are saying that she just might be the next Ratajkowski.
And who is that model? Well it is 21-year-old Elizabeth Pipko, and she's more than just a pretty face. Pipko is a Harvard student, has already published a book of poetry and is currently training for the 2018 Pyeongchang Olympics. Pipko clearly has the whole package.